---
---
---
---
---
---
---
---
Since I've known him, when I've looked into Swiss born Yvan Bougnon's face, I see a light behind his eyes that I'm not sure if it's pure excitement or unadulterated madness. And that smile. Is he just happy to be alive or are we going sailing soon? Then I remember, he's basically a long distance sailing Frenchman. It all makes sense now. I met Yvan quite a few years ago in Morocco when we both did a long distance catamaran race there called Raid Maroc where we sailed from the Mediq on the Med side to Rabat on the Atlantic side, with absolutely insane conditions through the Straight of Gibralter. Really, I thought he was French for a long time because we wouldn't talk to each other much, just a nod recognizing our inline interests and craziness on the inside. Then like many French we slowly started to talk English and now we have perfectly normal conversations. It's not that the French don't like Americans or vice versa, it's that our French is shit and they are hesitant to speak English so easy unless they know you're a friend and won't judge them. Anyway, my point is Yvan is a Frenchman in a Swiss body who is part sailor, adventurer, racer (he earned like 10th at F18 Worlds last year), media hound and money raiser.
Taking a step back in his life, he skippered the ORMA 60 Brossard for years, most of the time singlehanded. See why I thought he was french now? Brossard is a little famous from the video of pulling wakeboarders. Sadly, it ended it's life against the rocks in Oman stripped of metal like a rhino stripped of tusks.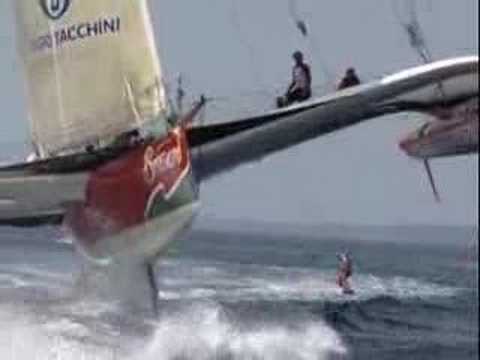 With no big ship anymore, in 2010 Yvan sailed with Jeremie Larrangerique across the Med on a custom Hobie Fox setting a record for fastest trans-Med on a beachcat. I think there's actually prize money up now for whoever can beat their time of a little under 53 hours.
In his last adventure this month he teamed up with Sebastien Roubinet, who actually saved him from the overturned Brossard some years ago. That's probably the kind of guy you want to sail with. Their goal: To round the infamous Cape Horn on a 20′ Nacra F20c. I saw him in the Caribbean last November and asked him how he garnered financing for all of these projects. He looked back at me a little shocked and said, "It's France, it's easy for these things." You see why I thought he was French? Yeah, here in the States it would be damn near impossible to find the funding, but they love their crazy multihull long distance racing in France. Then I asked why Ushaia around the Horn and back. He explained that the human body can stay awake for about 60 hours straight before mad hallucinations set in so 450 miles in one shot is about the maximum considering the surroundings and conditions. I guess he would know. The conditions of the Horn can be impressive with unfun coldness and unpredictable weather. During their rounding this time they actually dropped the main way down on the deck and went on mostly jib for a while. Prudence is probably the way since if they flipped and drifted into the Drake Passage, they'd be seeing iceburgs, and humans don't generally last long floating in those waters.


Well, they made it and now he's two for two in the beachcat long distance adventure chase. The next one he wants to do is a World Speed Sailing Record for distance sailed in a beachcat over a 24 hour period in Brazil. I told him when he sets that record I'll try to break it. That would be a fun one.
Here's a pretty nice teaser vid for the Horn rounding. The added weight and leverage of the wings makes the F20c a little unhappy I'd say.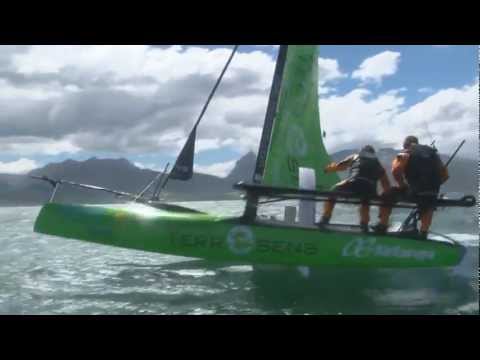 Here is a vid of the rounding and small celebration.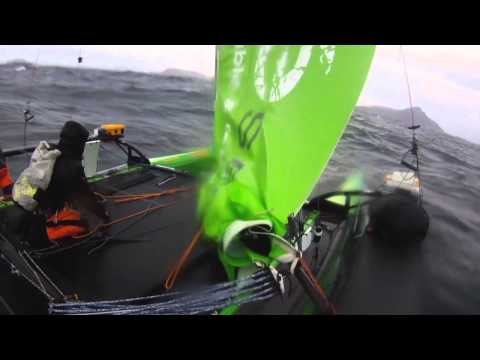 Congrats Yvan and Sebastien!
---
---
---
---
---
---
---
---
---
---
---
---
---
---
---
---